Vedante Announces POP BANDS for EMTs – Provide Extra Safety to Industrial Workplaces with Nighttime Reflectivity up to 1500 Feet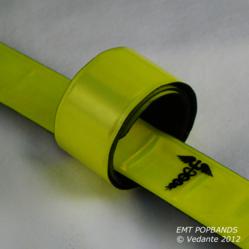 Boulder, CO (PRWEB) June 21, 2012
"There is a need to increase visibility for those who work in low-light situations, whether it's a police officer directing traffic, a machine operator at a nighttime construction site, or a school crossing guard," said Vedante CEO Barbara Kantor. "Vedante products meet high standards in both reflectivity and durability, making POPBANDS ideal for many industry workplaces."
Occupational safety concerns predominate for law enforcement, construction, transportation, and other industry professionals who work in low-light conditions with increased dangers – such as proximity to high-speed traffic and industrial machinery and equipment. Many of these dangers can be reduced by the use of super-reflective Vedante POPBANDS, which pop on like snap bands, and greatly increase nighttime visibility with reflectivity up to 1500 feet, 700 CPL (much more reflective than many competitor products).
There has been significant interest in Vedante products from the government sector, oil companies, and transportation organizations. A global leader in full-service engineering, construction, and operations expressed interest in POPBANDS because they "make safety cool" for workers.
POPBANDS are colorful, which encourages people to wear them to stay safe on the job.